Q: Describe your company. What product(s) do you make and what are they used for?
A: HydraForce is an independent provider of efficient, high-performing andinnovative motion control solutions that improve the world.
Our employees design and build hydraulic and electrohydraulic products and systems that provide control of the hydraulic functions on mobile equipment,including tractors and agricultural machines, construction equipment, materialhandling equipment and other types of machinery.
HydraForce supplies many of the leading original equipment manufacturers(OEMs) in the world, including Agco, Caterpillar, CNH, Crown, Cummins, John Deere, Doosan, Bobcat, Hyundai Heavy Equipment, JCB, JLG, Komatsu and Terex.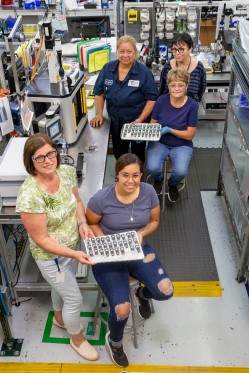 A typical valve assembly cell at HydraForce includes in-lineautomated testing for proper assembly of pressure control valves forhydraulic machinery. Every valve is 100% tested before being putinto a hydraulic manifold. Front (L-R) Janina Kzran, Team Lead,Shandira Garcia. BACK: (L-R) Angelita Rubio-Morales, GalenaKlugman, (seated) Barbara Perkowska.

Q: Describe the process of making your products.
A: Hydraulic valves are made in assembly cells focused on the specific type of valve, i.e. solenoid, proportional, directional control, flow control and pressurecontrol. The valves are assembled by hand or by robot, depending on thequantity, and 100% tested right on the assembly line. HydraForce follows strictquality processes, including Advanced Product Quality Planning (APQP),Production Part Approval Process (PPAP), Failure Mode and Effect Analysis(FMEA), and Statistical Process Control (SPC), Kaizen continuous improvementprocesses, Kanban throughput systems and Six Sigma problem solving.

Q: Do you plan to hire any additional staff or make any significant capitalinvestments in your company in the next year?
A: HydraForce is actively seeking assemblers and testers for hydraulic valvesand manifolds, both first and second shift. We are also hiring for othermanufacturing positions, such as material handling, shipping and receiving,quality and other production positions. HydraForce has openings at varioustimes for design and manufacturing engineers, supply chain and operationssupport positions. HydraForce has been making capital investments in automated assembly andtesting for many years and it's a top priority for the company to continue toinvest heavily in automation.
Q: Do you have enough space in your current facility or are you looking toexpand/find a new facility?
A: We have enough space right now in our current facility.
Q: What will your company's main challenges be in the next year?
A: Dealing with tremendous growth and overcoming supply chain challengesand labor availability to fulfill customer orders.
Q: What's the hottest trend in your industry?
A: Electrification of equipment, such as electric vehicles, lift trucks and more isbeing explored in the mobile equipment industry. HydraForce is activelyinvolved in adding electronics, position and feedback sensing and remotecontrol to its hydraulic valve and manifold products.
Q: Do you have a business mantra?
A: Our business mission is to simultaneously create value for all stakeholders bydelivering best in class motion control solutions.
Q: What is one interesting fact about your company that most people may not know?
A: Our first product was a basic hydraulic check valve.

Q: What are the benefits to you of making your product(s) here in the Chicago suburbs?
A: Chicago is centrally located to most of our customers in the United States, andmost of our suppliers are also located in Chicago and surrounding areas. Chicago is a major distribution hub for equipment manufacturing.

Q: If you could make any product other than what you do make, what would it be?
A: We are exploring electrification of hydraulics with the use of electronic and remote control and feedback sensing.

Q: If you could pick someone famous to promote your product, who would it be?
A: We have two choices.
While electrification may encroach on some hydraulic applications, there is stillno technology that has the power density of hydraulics for high force and heavyloads. We would pick "The Rock," Dwayne Johnson.
Hydraulics has often been compared to the heart and muscle of the human body-- hydraulic pumps being the heart, motors and cylinders the muscle behindlinear and rotary motion. Hydraulic valves are the "brains" behind fluid powertechnology, allowing the hydraulic fluid to flow or not flow, at what rate to flow,and at what pressure to flow to provide innovative and efficient motion control.To represent the innovative and brainy side of our business, we would pick "IronMan," Robert Downey Jr., to be our spokesperson.
Here's the link to the full article in the Daily Herald:
https://www.dailyherald.com/business/20220320/made-in-the-suburbs-hydraforce-supplies-the-parts-that-improve-the-world