SAE PORT PLUGS
Available in Hex Head or Hex Socket Versions:


---
ORIFICE PLUGS
Made from a hex socket plug, orifice plugs can be pre-drilled or
ordered as blanks. Orifice diameters can be specified within a range.


---
ORIFICE PLATES
Orifice Plates produce a higher restriction in one direction and a lower restriction in the other direction.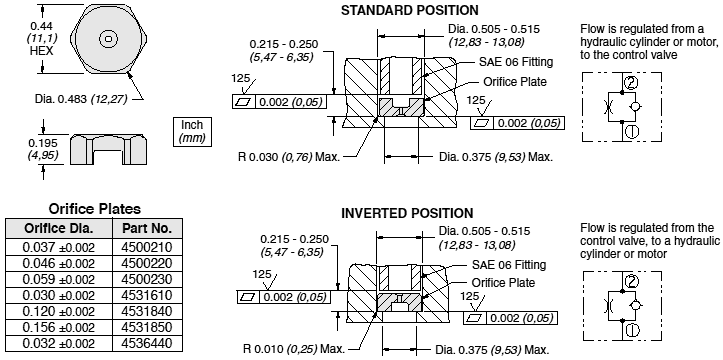 ---
SCREEN CARTRIDGES
| | |
| --- | --- |
| These 100-mesh screen cartridges are not recommended substitutes for hydraulic filters. However, they are good low cost "rock catchers" for shielding control orifices, pilot lines, etc. Use SCxx cartridges for flow from port 2 to port 1 only. | |
---
ADAPTER LOCK KITS
| | |
| --- | --- |
| Lockdown kits can be used to help prevent valves from backing out of their cavities. Kits include adaptor plate, lock washer and machine screw. HyPerformance™ valves, which have a larger hex size than comparable standard valves, use a special kit with clear zinc, circular adaptor plates that can be readily distinguished from the adaptor lockdown plates for standard valves. | |
---
ADAPTER LOCKDOWN KIT ORDERING INFORMATION
Adapter lockdown kits may be used to help retain valves in their cavities. Kits include adapter plate, lock washer, machine screw and optional spacer.
---
PILOT PISTONS
Pilot pistons can be applied in aluminum housings if the designer and fabricator prepare the bore correctly.
See: VC08-PCV-DCV, VC10-PCV-DCV, VC12-PCV-DCV, VC16-PCV-DCV